Chairman's Message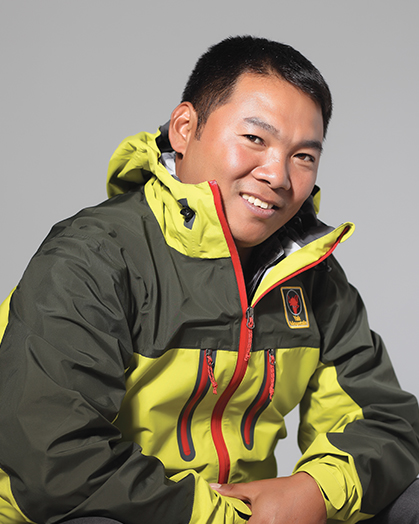 Mingma Sherpa
Chairman
Amongst the crowd of new trekking and expedition companies sprouting every day, Seven Summit Treks has something of a history, and culture and experience that comes with it. With years of experience in catering to needs of our clients spread throughout the world, we now have thousands of satisfied customers who strongly approve of Seven Summit Treks. We have been standing out for our technical infallibility, excellent management and sincerity in providing services. Be it a trek across the vast stretches of rolling hills, or the expedition to the summit of majestic peaks, we are here to help you reclaim freedom and wilderness. Established back in 2066 BS, Seven Summit Treks has already aided a generation of nature enthusiasts to discover the bewildering beauty and the incomparable splendor of the Himalayas. And if you have cravings to get in touch with nature, dive deep inside its beauty and get back, rejuvenated, Seven Summit Treks and Expeditions welcomes you to Nepal.
We offer a wide range of services, and although we are based on Nepal, we already have a network spread in China and Pakistan. We have guides, Sherpas and leaders who have had years of experience tussling with nature and then befriending it. Their purpose is to facilitate your goal, whether it be mingling with nature, or conquering it. Be that China or Pakistan, they can accompany you anywhere and still provide service with the sense of confidence and delight. We are proud to acknowledge that, much like our clientele, our personnel are people who find pleasure in the wide embrace of nature. And it goes without saying that they keep the safety of our clients, their number one priority.
Seven Summit Treks has provided employment for hundreds of Sherpa people, who belong to an underprivileged minority caste in Nepal. This has brought about significant change in their quality of life. We feel a great sense of accomplishment for facilitating many young mountaineers to conquer mountains. We also feel proud in stating that many of the clients whose expedition was conducted by Seven Summit Treks were able to climb mountains above 8000 meters on their first attempt.
Today, Seven Summit Treks has developed a formidable reputation and has been gaining a lot of competition from international trekking and expedition firms. It is all but natural that we are being dragged in the mud while being guilty of nothing. But, this has led to some negative publicity of the company and some raised eyebrows. However, we don't want to go on pointing fingers at certain parties who have tried to muddle the reputation of our company. It is understandable that, some parties aren't really happy as we continue ascending towards the pinnacle of success. We sincerely request you to not to pay heed to any of such rumors and evaluate us only after gaining firsthand experience of our services. No matter what people blame us of, we are prepared and committed, as ever to fulfilling the needs of our widespread clientele. Both of us directors of Seven Summit Treks have had years of experience in mountaineering as we both have conquered all the 14 Highest peaks in the world. This organization being run by experienced mountaineers ever since the time of inception is a valid proof of the technical excellence of our organization. Presently, we not just possess the ability to provide our clients with what they desire but also to facilitate competing firms and agencies during dire times. We are frequently known to assist other treks and expedition agencies during times of distress, like providing helicopter for several rescue missions. We declare that we will continue to remain the number one organizers of expedition and treks in Nepal.